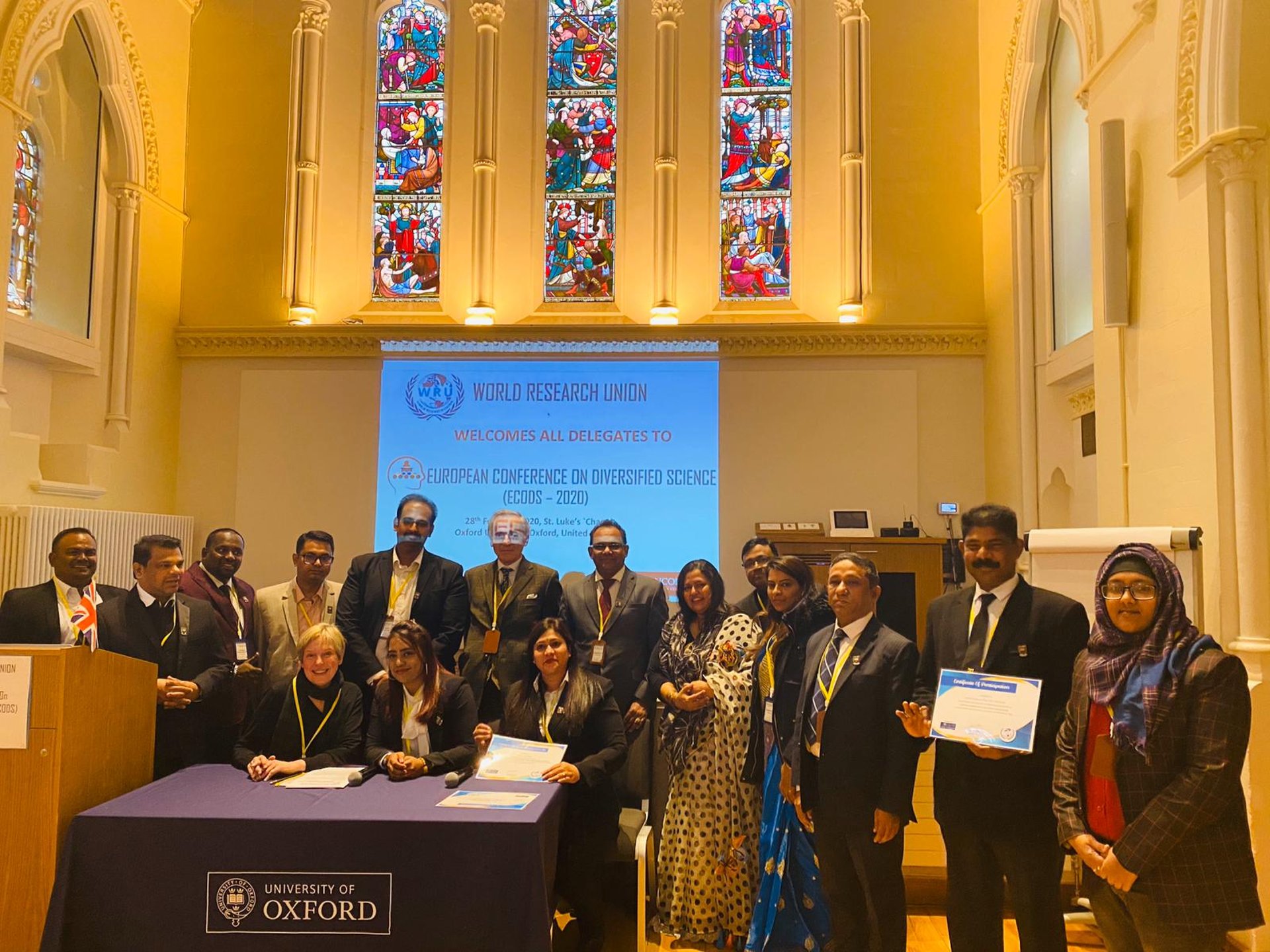 World Research Union is one of the world's dedicated foundation for converging researchers. We patrons stand tall to promote and connect research works to the maximum brim through our verticals.
World Research Union (WRU) is a foundation based in Kuala Lumpur by having branches in United Kingdom, India and China. It was setup in year 2017 with a resilient vision of promoting and stimulating researches in diversified fields. This is a non-profit association operated purely with revenue from research projects and events. World Research Union (WRU) is legislated and registered in all above mentioned nations. WRU targets to exercise collaboration with corporates, universities, bureaucratic bodies and nations. By being part of this Union, all members gain the credibility in their research career. There are four significant areas of focus:
a) Uniting leading Research bodies
b) Connecting Researchers
c) Integrating Researches
b) Conducting International conferences
e) Publishing Research Manuscripts
f) Training on Research Methodology.
Our fraternity of 100+ research experts, members and staffs works closely with research bodies to turn small ideas into a global phenomenon for the purpose of sustaining the governance, economies and corporates.
World Research Union works tirelessly to facilitate international collaborations, providing an independent and credible source of advice, as well as contributing to academic debate and research. World Research Union is fortunate to have global researchers and is committed to work on knowledge sharing, foresight planning and greater interaction between researchers, academics, policy makers, thought leaders and those engaged in political governance.
This global organization is built with the singular motive of accommodating researchers under one roof. Our primary service includes research publications, research conferences, research consulting, market research and in-house research & development. Our routine schedule will be to conduct International conferences Canada, Germany, Australia, South Africa, United Kingdom, United Arab Emirates, Malaysia and United States of America. Our events aim to give our delegation an opportunity for engagement, in applied researches. Nevertheless, we primarily aim to give a prominent space for fundamental researchers to expand their knowledge. World Research Union shall hold forums annually which becomes a space for Government representatives to present their views on national policies and current state-of-affairs. Insightful research reports are to be presented by the bureaucrats to a pool of similar think-tanks. Whether you are an industrial researcher or a doctoral candidate or an academic researcher or an analytical person, we at World Research Union have a space for you.
Statements
Vision
To ignite the research community by uniting researchers, researches, research-bodies.
Mission
World Research Union (WRU) strategizes to connect and unite the research fraternity for the purpose of bringing innovation which in turn transpires as utility to society.
Our Core Value
For the diversified research streams that we integrate, World Research Union has got four vital core values such as ability, belief, commitment and dedication in what we do to attain the success of our mission to connect the research fraternity and reach the research works to appropriate bodiesOur core values exemplify what is most significant to us as a research foundation, and in how we connect and integrate the entire research community. The ABCD value helps us to take decisions and actions in carrying out our mission. These core values guide us and reminds us that anyone aspiring to be in research or already in executing researches, we are there as support system to serve your needs.
Subsidiaries
World Research Union is a registered foundation as per constitutional laws in the countries that we operate. While this being a non-profit organization. There are few commercial models through which we become self-sustainable consistently. Our two business verticals are Journal of Reproducible Research (JRR) and Sol Deus Ventures. Having these firms serves us to connect with industry at ease. Our in-house research and development outcomes will be published at our in-house journal viz. Journal of Reproducible Research (JRR). For more information about Journal of Reproducible Research (JRR), visit www.journalrr.com Sol Deus Ventures is a business consulting firm which is exhilarated with innovative business models. Trade, education, food & beverages are the primary business activity at Sol Deus. Apart from these, Sol Deus Ventures is the parent organization for all our entities. Write to us at info@wrunion.org if you need more information about this firm.